Full Description
Introducing our luxurious CBD Sugar Scrub, a harmonious fusion of natures finest ingredients crafted to elevate your skincare routine. Immerse yourself in the indulgence of this premium formula, designed to revitalise and nourish your skin, leaving it feeling irresistibly smooth and radiant.

Our CBD Sugar Scrub boasts a meticulously crafted blend, starting with sucrose, a natural exfoliant that delicately buffs away impurities and dead skin cells, unveiling a renewed complexion. Combined with caprylic/capric triglyceride, this skin-loving emollient deeply moisturises, creating a silky-soft feeling.

Elevating the sensory experience, the luxurious beeswax (cera alba) envelops your skin, forming a protective barrier. The captivating fragrance is carefully designed to provide a soothing aromatherapy experience.

At the heart of our CBD Sugar Scrub lies the star ingredient - cannabidiol extract. Renowned for its remarkable skincare benefits, CBD works harmoniously with your skin, promoting a healthy complexion. With its potent antioxidant properties, CBD helps to neutralise free radicals and protect against environmental stressors, allowing your skin to flourish with youthful vibrancy.

To complete this luxurious experience, we've infused our sugar scrub with tocopherol, a natural form of vitamin E. This powerful antioxidant nourishes and restores the skins natural moisture balance, leaving it feeling supple, hydrated, and visibly rejuvenated.

Elevate your skincare ritual with our CBD Sugar Scrub, a testament to the perfect synergy of nature's treasures. Immerse yourself in this premium formulation and unlock a radiant glow that is sure to captivate. Pamper your skin with the finest ingredients and indulge in the transformative power of CBD. Discover a new level of skincare excellence today.
Why use Supreme CBD Sugar Scrub? 
Supreme CBD's Sugar Scrub effectively exfoliates the skin, helping to remove dead skin cells and promote a smoother, brighter complexion.


The Caprylic/Capric Triglyceride and Cera Alba (beeswax) in the scrub provides intense moisturisation, leaving the skin feeling soft and hydrated.


The Cannabidiol (CBD) extract in the scrub offers soothing and calming properties, helping to alleviate redness, irritation, and inflammation on the skin.


Tocopherol (Vitamin E) is a powerful antioxidant that helps protect the skin from free radicals and environmental damage, supporting overall skin health.


The Parfum in the sugar scrub adds a pleasant and relaxing fragrance, creating a spa-like experience during your skincare routine.


How to use Supreme CBD Sugar Scrub
Begin by moistening the skin with water to create a suitable base for the sugar scrub application.


Take a generous amount of sugar scrub and gently massage it onto the wet skin using circular motions. Ensure that the scrub covers the desired areas and is evenly distributed.


While applying the sugar scrub, massage the skin in circular motions for approximately 30 seconds. This helps to exfoliate the skin and remove dead skin cells, revealing a smoother and refreshed complexion.


After the 30-second massage, thoroughly rinse the skin with water to remove the sugar scrub. Make sure to rinse all areas where the scrub was applied, ensuring no residue remains.


Pat the skin dry with a clean towel and proceed with your regular skincare routine. Applying a moisturiser or any other desired skincare products after using the sugar scrub can help nourish and hydrate the skin, leaving it feeling soft and revitalised.
*Once opened please use within 6 months. 
INGREDIENTS:
CBD Sugar Scrub 100ml – 500mg CBD
Ingredients: Sucrose, Caprylic/Capric, Triglyceride, Cera Alba, Parfum, Tocopherol, Cannabidiol Extract.

What our Ambassadors say..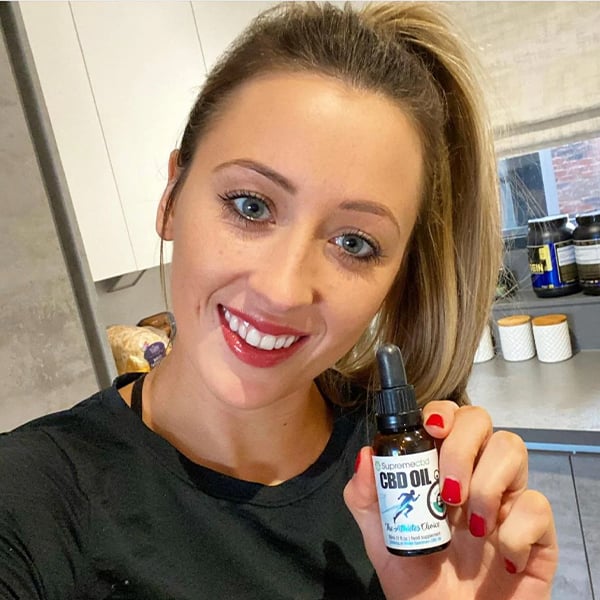 Jade Jones
Jade is simply a superstar in British taekwondo and has been world taekwondo Olympic champion two times over. Jade has been using our CBD products for a number of years.
"I use CBD for my sports recovery - always good to have to hand after a hard training session"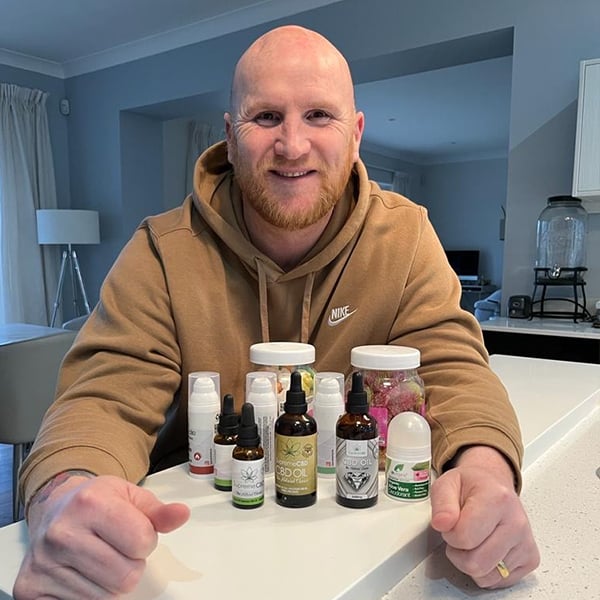 John Hartson
Life after football presented John with different challenges, which he met head-on and won just like all the Ariel duels he won during his playing days. We at Supreme CBD can't express how happy we are to have John as an ambassador.
"Its been really beneficial for me, and what I would say to people who haven't tried it - just give it a go"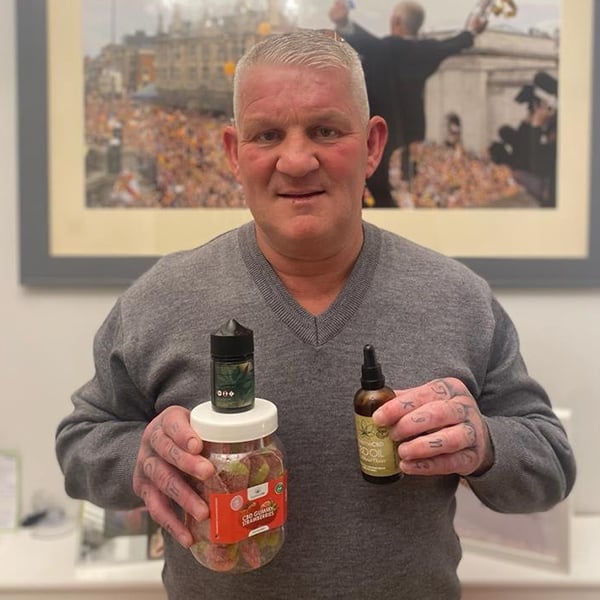 Dean Windass
Dean Windass is a former professional footballer who played as a striker. He played spells at Bradford City and contributed to his hometown team Hull City's promotion to the Premier League in 2008.
"I religiously take CBD oil 2 hours before bed, it helps me to sleep. I also use it to help me with anxiety and panic attacks and it really helps"