Full Description
Introducing our revolutionary CBD Exfoliator, a game-changer in skincare that combines the power of CBD with gentle exfoliation to deliver unparalleled benefits for your skin. This exceptional product is formulated with a potent blend of Bamboo Exfoliant, Cannabis Sativa Oil, and Cannabidiol Extract, providing a luxurious and effective skincare experience like no other.

The key ingredient in our CBD Exfoliator is Cannabidiol Extract, commonly known as CBD, renowned for its remarkable soothing and anti-inflammatory properties. When applied topically, CBD works harmoniously with your skin to reduce redness, calm irritation, and promote a healthy, balanced complexion. Its gentle nature makes it suitable for all skin types, including sensitive and acne-prone skin.

Enhancing the exfoliating action of this incredible product is the Bamboo Exfoliant. This natural exfoliator gently removes dead skin cells, unclogs pores, and refines the skin's texture, revealing a radiant and revitalized complexion. The finely ground bamboo particles delicately polish the skin, promoting cell turnover and stimulating collagen production, resulting in a smoother and more youthful-looking appearance.

Infused with the nourishing benefits of Cannabis Sativa Oil, our CBD Exfoliator takes your skincare routine to the next level. Packed with essential fatty acids, vitamins, and antioxidants, this oil deeply moisturises and hydrates the skin, restoring its natural barrier function and protecting it against environmental stressors. The powerful anti-ageing properties of Cannabis Sativa Oil help diminish the appearance of fine lines and wrinkles, leaving your skin plump, supple, and rejuvenated.

Together, the synergistic effects of CBD, Bamboo Exfoliant, and Cannabis Sativa Oil create a powerhouse formula that revitalises and transforms your skin. Our CBD Exfoliator not only provides a thorough and gentle exfoliation but also nourishes, soothes, and rejuvenates your complexion. Experience the ultimate skincare indulgence with our CBD Exfoliator and unlock the secret to radiant and healthy-looking skin.
How to use Supreme CBD Face Exfoliator
Before applying the face exfoliator wash, ensure that your face is damp by splashing it with water. This helps to open up the pores and prepare the skin for exfoliation.


Squeeze out a small amount of the face exfoliator wash onto your fingertips. 


Using your fingertips, begin massaging the exfoliator onto your face using gentle circular motions. Start from the centre of your face and work your way outwards. Focus on areas that may require more exfoliation, such as the forehead, nose, and chin.


Massage the face exfoliator onto your skin for about 30 seconds. This duration allows the product to work effectively without causing excessive irritation or over-exfoliation.


After the 30-second massage, rinse your face thoroughly with lukewarm water. Make sure to remove all traces of the exfoliator from your skin, paying attention to the hairline and jawline. Pat your face dry with a clean towel, and continue with your regular skincare routine. Avoid rubbing your face harshly, as this can lead to unnecessary irritation.

Once opened please use within 6 months. 
INGREDIENTS:
Aqua, Helianthus Annus (Sunflower) Seed Oil, Tocopherol, Polysorbate 20, Cetearyl Alcohol, Glyceryl Stearate, Bamboo Exfoliant, Cannabis Sativa Oil, Cannabidiol Extract, Phenoxyethanol, Carbomer, Potassium Sorbate, Sodium Hydroxide CBD Extract.
What our Ambassadors say..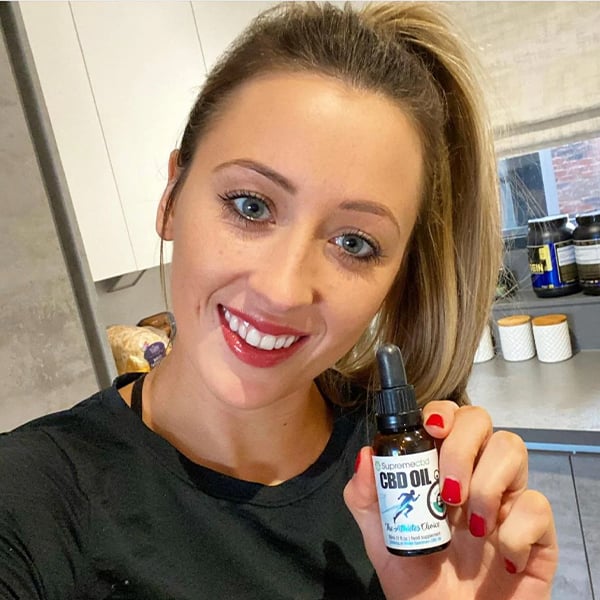 Jade Jones
Jade is simply a superstar in British taekwondo and has been world taekwondo Olympic champion two times over. Jade has been using our CBD products for a number of years.
"I use CBD for my sports recovery - always good to have to hand after a hard training session"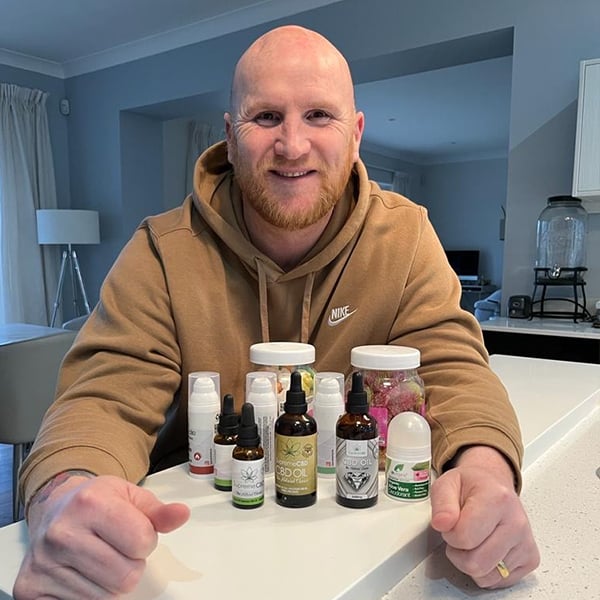 John Hartson
Life after football presented John with different challenges, which he met head-on and won just like all the Ariel duels he won during his playing days. We at Supreme CBD can't express how happy we are to have John as an ambassador.
"Its been really beneficial for me, and what I would say to people who haven't tried it - just give it a go"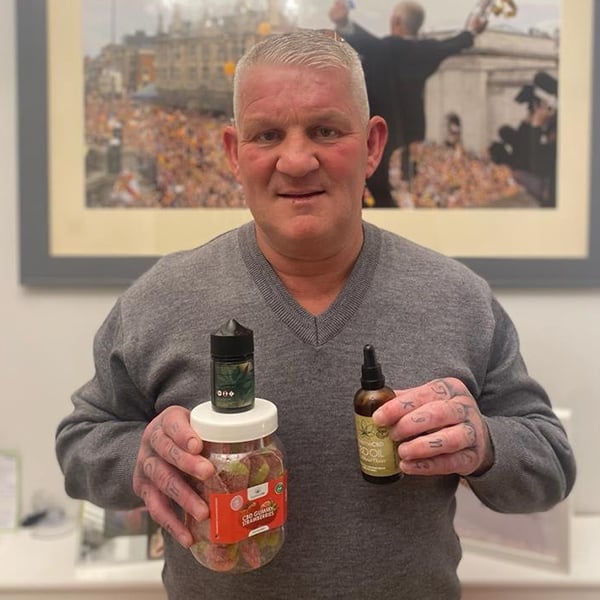 Dean Windass
Dean Windass is a former professional footballer who played as a striker. He played spells at Bradford City and contributed to his hometown team Hull City's promotion to the Premier League in 2008.
"I religiously take CBD oil 2 hours before bed, it helps me to sleep. I also use it to help me with anxiety and panic attacks and it really helps"