Full Description
Supreme Starter Pack
If you're an intermediate or experienced CBD user looking for a handy, cost-effective bundle full of your favourite CBD products, then look no further. Supreme CBD's Supreme Starter Pack offers a full range of our best-selling items, providing the perfect mix of quality and variety. Whether you want to give yourself a well-deserved treat or you're looking for a gift for the CBD user in your life, our Supreme Starter Pack is a great choice.
The pack contains our Supreme CBD Oil 30ml (3000mg), Supreme CBD Oil 100ml (12000mg), Supreme CBD Large Gummy Sweets (16-22mg), and Supreme CBD Muscle and Joint Rub 50ml (800mg). So, whether you're relaxing at home or on the go, you'll have plenty of options to choose from for getting your daily dose of CBD. It also offers a mix of both broad-spectrum and full-spectrum CBD products. So, whatever your preferences, our Supreme Starter Pack has something for you!
Our CBD products
When it comes to quality, our CBD products can't be beaten. We use the cutting-edge, gold-standard CO2 extraction process to ensure that any unwanted compounds are removed and that the CBD in our products is of the highest potency. Our products are extracted from premium-quality hemp strains and utilise an organic, non-GMO formulation, ensuring that there are no solvents or other unwanted chemicals introduced at any point in the process.
What is more, all our CBD products are third-party lab tested, with the results posted for you to consult on our website. That means there's no need to take our word for it – have a look for yourself and buy with confidence that you're getting top-quality CBD products.
The Supreme Starter Pack includes:
Supreme CBD Oil 100ml (12000mg)
CBD oil is a classic and ever-popular way to get your daily dose of CBD. It's a highly convenient option, offering you a concentrated dose of CBD that is easy to take and absorbs quickly into the body. When it comes to taking CBD oil, you have a range of options. These include the sublingual method, which involves holding the oil under your tongue or adding it to food or drink.
Our Supreme CBD Oil 100ml (12000mg) is most suitable for intermediate users of CBD. This full-spectrum oil provides not only a substantial dose of CBD but also a range of other cannabinoids from the hemp plant. Unlike broad-spectrum CBD products, this includes THC. The inclusion of this range of compounds has the potential to activate what is known as the "entourage effect". This is when the various components of the hemp plant complement one another. Further, the level of THC is well below the required level in the UK. As a result, you can be sure you will not experience any psychoactive effects. Our CBD oil comes with a handy pipette to make administering your required dose perfectly simple.
Ingredients
Full Spectrum Hemp Extract (12000mg per 100ml), MCT Oil, Terpenes.
Supreme CBD Oil 30ml (3000mg)
This highly concentrated CBD oil is perfect for more experienced users who want to get their daily dose of CBD simply and quickly. If administered using the sublingual method, it will enter your bloodstream quickly. Afterwards, you can simply get on with the rest of your day! Our base oil is odourless and tasteless, making this a great choice for those who prefer a more natural and organic taste. It's also ideal if you want to combine it with food or drink without affecting the taste.
Ingredients
Full Spectrum Hemp Extract (3000mg per 30ml), MCT Oil, Terpenes.
Supreme CBD Large Gummy Sweets (16-22mg)
CBD edibles are an increasingly popular way of taking CBD – and it's no surprise! Not only do they offer maximum convenience, but they also come in a range of flavours to suit every taste. Our Supreme CBD Large Gummy Sweets are a great choice for newcomers to using CBD edibles. They're also suitable for more experienced users who want a simple, great-tasting and discreet option. With the wonderful, nostalgic look and taste of gummy sweets, they're perfectly easy to carry with you on the go. Why not keep them in your bag and take one as and when you need? Whatever your dietary preferences, they'll meet your requirements – our CBD gummies are vegan, gluten-free and non-GMO. Each gummy sweet contains 16-22mg of high-quality broad-spectrum CBD, making it easy to get your exact daily dose.
Ingredients
Glucose Syrup, Sugar, Invert Sugar, Acid: Citric Acid, Malic Acid; Gelling Agent: Pectin; Humectant: Sorbitol; Fruit Juice Concentrate; Apple (1%); Acid Regulator: Trisodium Citrate, Natural Flavours: Strawberry; Colours: Black Carrot Concentrate, Spirulina Concentrate, Turmeric, Broad Spectrum Hemp Extract.
Supreme CBD Muscle and Joint Rub 50ml (800mg)
CBD muscle and joint rub is a quick, easy, and soothing way to incorporate CBD into your daily routine. If you're a regular gym-goer or just enjoy an active lifestyle, our specially formulated Supreme CBD Muscle and Joint Rub is a great choice. Just rub it into any sore spots after a strenuous workout. Applying it directly to your skin means you can target the exact area you want. Also, the inclusion of a range of calming ingredients such as eucalyptus, rosemary and cinnamon bark offer the additional benefits of other over-the-counter skincare products. The balm is extremely straightforward to use – simply apply to the affected area and rub in gently. Be sure to wash your hands thoroughly after application.
Ingredients
Aqua, Polysorbate 80, Glycerin, Carbomer, Phenoxyethanol, Caprylyl Glycol, Sodium Hydroxide, Eucalyptus Globulus Leaf Oil, Rosmarinus Officinalis Leaf Oil, Tetrasodium EDTA, Glucosamine HCL, Cinnamomum Camphora Bark Oil, Piper Nigrum Fruit Oil, Limonene, Linalool, Eugenol, Broad Spectrum Hemp Extract (800mg per 50ml).
What our Ambassadors say..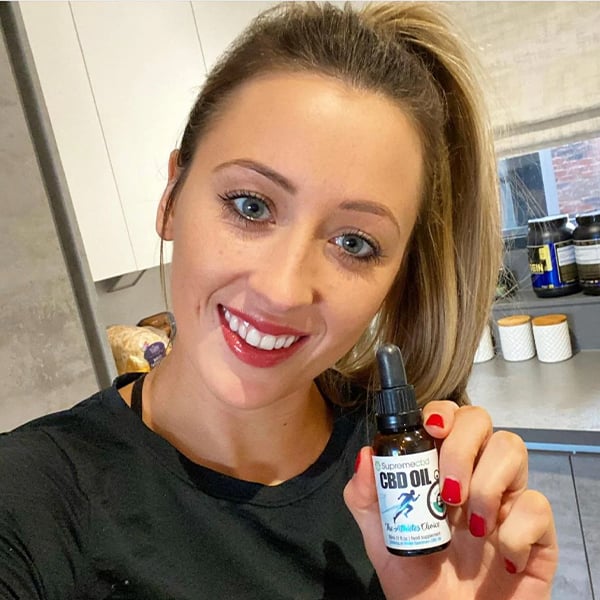 Jade Jones
Jade is simply a superstar in British taekwondo and has been world taekwondo Olympic champion two times over. Jade has been using our CBD products for a number of years.
"I use CBD for my sports recovery - always good to have to hand after a hard training session"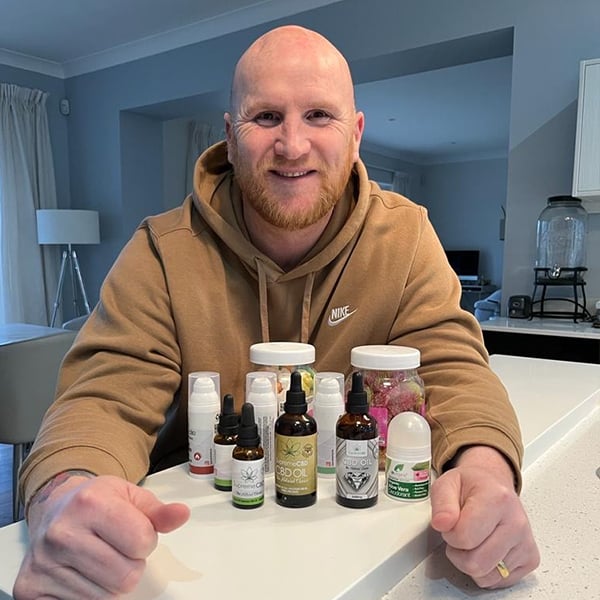 John Hartson
Life after football presented John with different challenges, which he met head-on and won just like all the Ariel duels he won during his playing days. We at Supreme CBD can't express how happy we are to have John as an ambassador.
"Its been really beneficial for me, and what I would say to people who haven't tried it - just give it a go"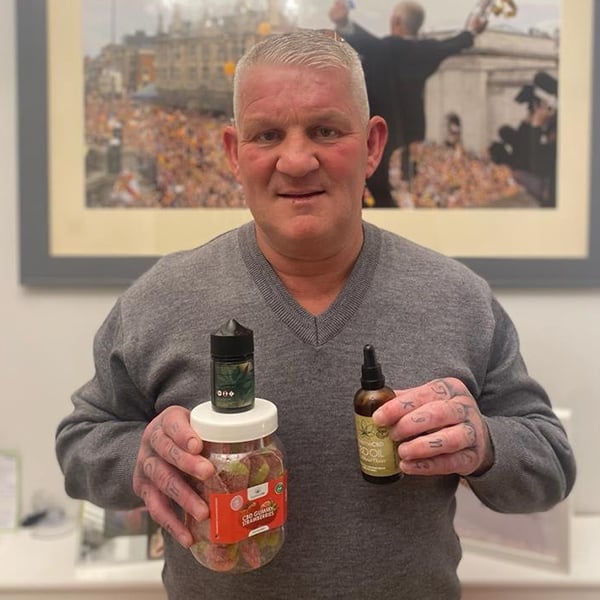 Dean Windass
Dean Windass is a former professional footballer who played as a striker. He played spells at Bradford City and contributed to his hometown team Hull City's promotion to the Premier League in 2008.
"I religiously take CBD oil 2 hours before bed, it helps me to sleep. I also use it to help me with anxiety and panic attacks and it really helps"